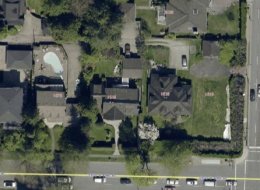 Remember playing Monopoly and trying to buy adjacent properties of the same colour so you could build and collect higher rent? That's actually playing out in real life in Vancouver.
Known as land assembly sales, multiple homes next to each other are being sold together as one package. The deals are attractive to developers and incredibly lucrative for homeowners.
Driving it all are the City of Vancouver's plans to re-zone single family lots into high-density residences like condos and townhouses along the city's main arteries, says The Vancouver Sun.
So in certain communities with a density allowance, a 10,000 sq.-ft. house could all of a sudden be turned into 25,000 sq. ft. of new townhomes, explains Business in Vancouver (BIV), which makes a tidy parcel of properties quite attractive to developers.
The Burquitlam Neighbourhood is poised for change. Not only is a new rapid transit station proposed for Burquitlam, but factors such as its proximity to Simon Fraser University, its alignment along Clarke Road, rapid bus service to the Lougheed SkyTrain Station and Coquitlam's Regional Town Centre.
Michelle Yu, arguably the queen of Vancouver land assembly deals, recently sold nine lots in a row on Granville Street. The $33.4-million deal meant each home — appraised separately at about $1.7 million — ended up selling for an average $3.7 million, reported Global News.
The RE/MAX realtor has a dozen land assembly packages listed on her site, including one for 11 properties on Oak Street. The $34-million offering could net each homeowner roughly $3.1 million on an average assessed property of $1.24 million.
But while selling in numbers can be money in the bank, land assembly sales can be a risky business.
After the deal is made, sellers could be forced to wait at least a year or two while re-zoning plans make their way through the city's approval process.
During that time, homeowners could change their minds and try to back out. But Mark Goodman from HQ Commercial told BIV that some developers sweeten the deal by allowing residents to live rent-free during the re-zoning wait, or by adding a $100,000 payment.
Some developers are snapping up land assemblies without waiting for details from the city on density in the area — such as in the Granville Street sale — which has people like city planner Brian Jackson worried about speculation, reported the Sun.
A land assembly also does not discriminate between old homes, completely renovated ones, or new builds. They all get torn down in the end, which some point out only creates more waste out of perfectly livable residences.
But Yu predicts the land packages will only continue in both pace and price, said BIV.