Bradian, B.C. Ghost Town For Sale (PHOTOS)
Posted: 08/21/2014 2:21 pm EDT
Updated: 08/21/2014 2:59 pm EDT
Print Article
Quietly tucked away just two hours from the world-class mountain destination of Whistler sits the empty town of Bradian, B.C. — and you could own it for under $1 million.
The ghost town, which has has 22 buildings on over 50 acres, is selling for $995,000. It has power and phone lines, according to the listing, and is described as "one of the best snowmobiling areas in B.C."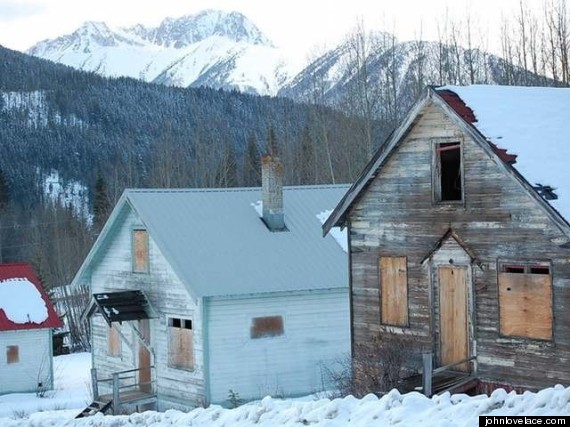 Bradian has been on the market since February 2010 when it was listed for $1.3 million, Pique Newsmagazine reported.
Realtor John Lovelace is selling the property for Tom and Katherine Gutenberg, who bought it in 2007.
"It was disappearing at the rate of several houses per year, people would simply dismantle them for parts," Tom told Pique in 2010. "It's important for us to keep that sort of thing and that really was my intent, to save that piece of B.C. history."
The couple spent time fixing up the town and bringing their kids up every summer, said Global News. But in 2010 they decided it was time to let someone else have a go.
Lovelace is convinced there is money to be made in Bradian, telling Global that "if you build it, people would come."
While Lovelace has received dozens of inquiries, most back off when they realize how much work is required to upgrade the town, said The Province.
"The problem is that, for someone to get involved, it's going to involve some imagination and somebody with deep pockets — that's always been the issue," Lovelace told the newspaper.
But he added: "They have the satisfaction of owning this town and being able to do everything they want to do with it."
See more photos of the ghost town:
Bradian, B.C. Ghost Town, For Sale: August 2014