Canada housing non-profit courts Ottawa with affordability plan – as founder Westbank woos millionaires in China with gifts and soaring prices
The Creative Housing Society warns of unaffordability, income inequality and economic segregation in Vancouver. But the developer behind the group uses rising prices in the city as a promotional tool in China to target wealthy people in search of 'globally optimised asset allocation'
PUBLISHED : Friday, 22 June, 2018, 5:43am
UPDATED : Friday, 22 June, 2018, 9:56am
Is it possible to fight housing affordability in Vancouver, while at the same time touting the city's price gains as a selling point to millionaires in China seeking "globally optimised asset allocation"?
That's the question inadvertently posed by local developer Westbank's Chinese website, as it promotes mainland sales events for its projects. Among other things, the Vancouver High-End Real Estate Seminars specifically target applicants to Canada's millionaire immigrant investor programme with offers of free gifts.
Potential attendees of the seminars in Shanghai, Beijing and Shenzhen this Saturday are alerted to things that routinely top the lists of things that make Vancouver awesome: good schools, clean air, and spectacular scenery.
Chinese birth tourism row: Canada hospital sues mother of million-dollar baby
But the Chinese-language site also unabashedly shakes the moneymakers that have given Vancouver good claim to the title of Strangest Real Estate Market in the Western World.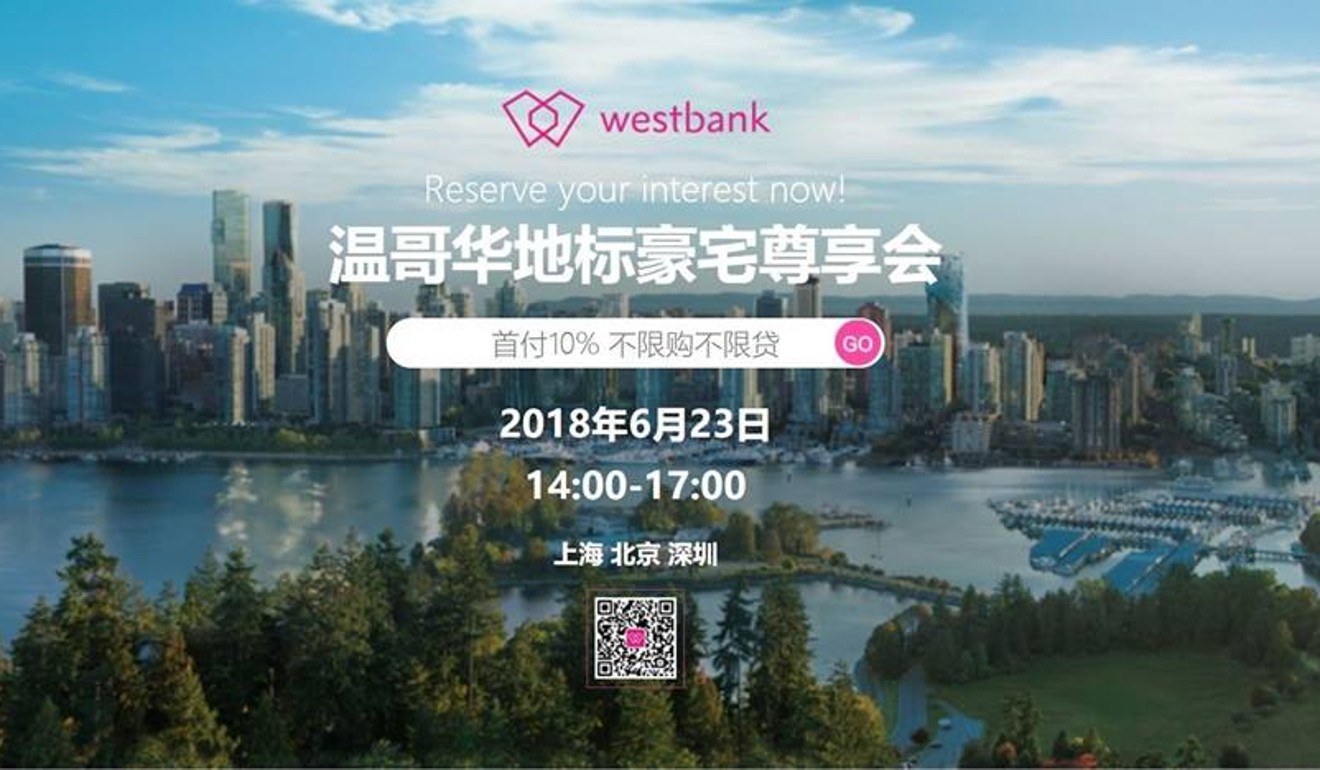 The site was the subject of an online furore recently when it was highlighted by local housing activist Rohana Rezel.
It describes potential attendees as immigrants and would-be immigrants to Canada including "high-net-worth persons" seeking "globally optimised asset allocation". It notes that "over 35 per cent of billionaires have already bought property in Canada".
"Families with the 'Maple Leaf' [slang for Canadian permanent residency cards] or a Canadian investment immigration application receive a gift," it says.
As for the rising prices that have propelled Vancouver near the top of world unaffordability charts, they are plainly depicted as attractants.
'Virtual kidnappers' con Chinese students into filming fake hostage videos
"House prices in Vancouver rose by 25.9 per cent in 2017," the site claims, alongside a colourful graph of rising prices in Greater Vancouver, and an assessment that the city is "the gathering place of the world's richest people, rated as one of the most liveable cities in the world by The Economist."
The 'economic segregation' of Vancouver
This sort of sales pitch may stick in the craw of a locally-earning homebuyer in Metro Vancouver, where the median household income, a modest C$72,662, is dwarfed by costs of ownership. The Real Estate Board of Greater Vancouver says the composite benchmark price for all residential properties in Metro Vancouver stands at C$1,094,000.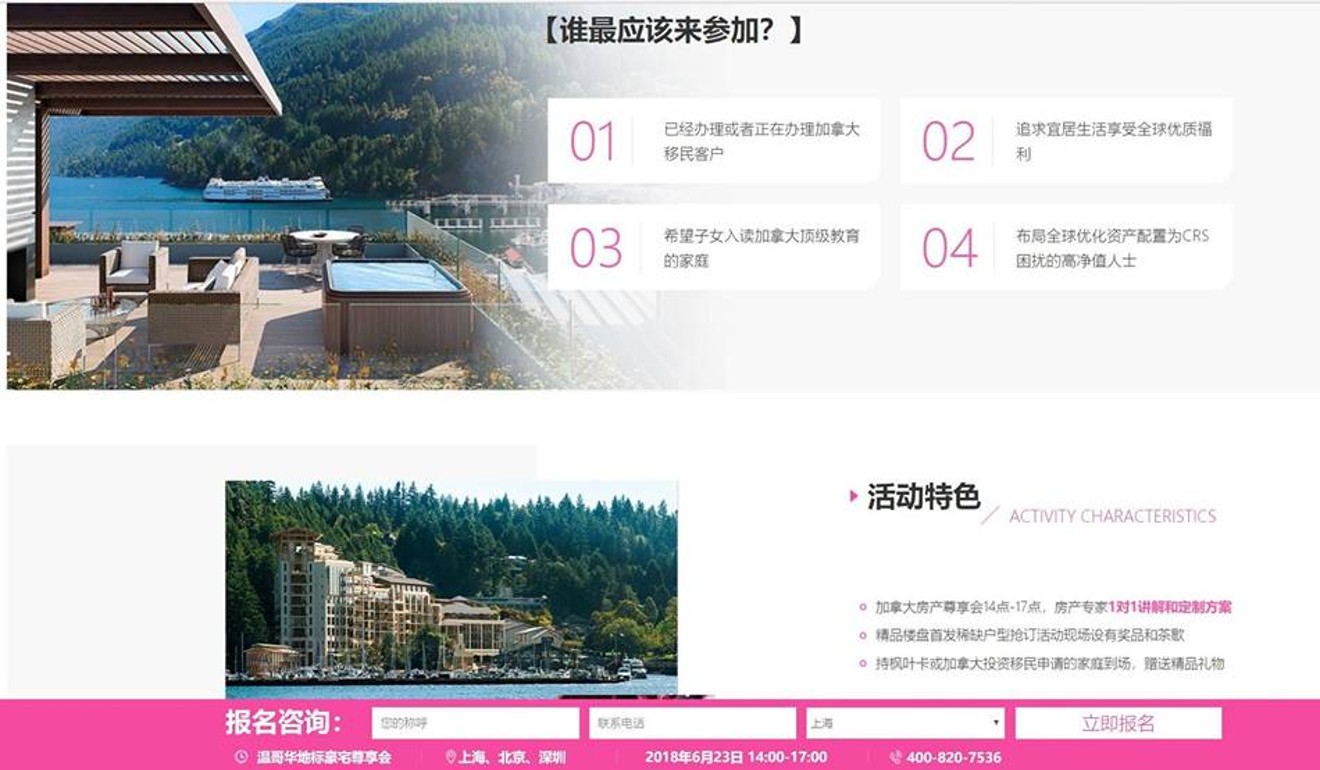 However, unless you have been living under a rock, it is not a terribly surprising tactic for a seller of high-end real estate in Vancouver. Westbank says its clientele in Asia is "primarily Canadian" and is purchasing because of existing ties to Canada, "or future plans to call Canada home".
(It should be noted that the site also tells customers "Canada is open to Chinese for 10 years without an interview visa", an apparent reference to the 10-year multi-entry visitor visa scheme, as an alternative to formal immigration)
Rich migrants are exiting Canada but leaving families behind
Yet at the same time as making explicit pitches to the rich in China – clearly premised in part on Vancouver housing as a commodity in a rising market – Westbank is also the founder of a new organisation that wants to take a massive role in the city's battle against unaffordability, and is warning against the perils of income inequality.
In its mission statement, the Creative Housing Society says that "in Vancouver and Toronto, both now considered global cities, there is a significant disconnect between local incomes and the cost of housing. Income inequality has been increasing and is manifesting itself more and more through economic segregation."
We will welcome newcomers to Vancouver to purchase provided they intend to live, work and contribute to the community
The CHS is proposing to the federal government an ambitious scheme to build 50,000 units of affordable housing, mostly in Vancouver and Toronto. The scheme, which could be worth up to C$14 billion, would involve public and private partnerships to build "affordable rental housing", possibly on publicly owned land. Its broad outlines are under consideration by the Trudeau government; Liberal MP Adam Vaughan, the parliamentary secretary for housing and urban affairs, told the Globe and Mail in March that the government was seeking more information on the proposal.
In a statement to the SCMP about the compatibility of Westbank pitching to millionaires in China, while the CHS pitched affordability solutions to the government, Westbank said its support of the CHS was "a natural extension of the firm's long-standing, broad-ranging work, and stepping up to address the need for housing in Canada".
"However Creative Housing is not Westbank. Creative Housing is a separate, not-for-profit organisation under the direction of one of the country's most respected advocates seeking to work with all levels of government and other advocates and businesses to create affordable, rental housing for Canadians." (That's a reference to CHS's Jennifer Keesmaat, the former chief planner of Toronto)
As for the direct appeals and fee gifts being offered to millionaire immigrant investor applicants*, "Westbank has made the point that this event is to attract people with residency status and families who want to live in Vancouver."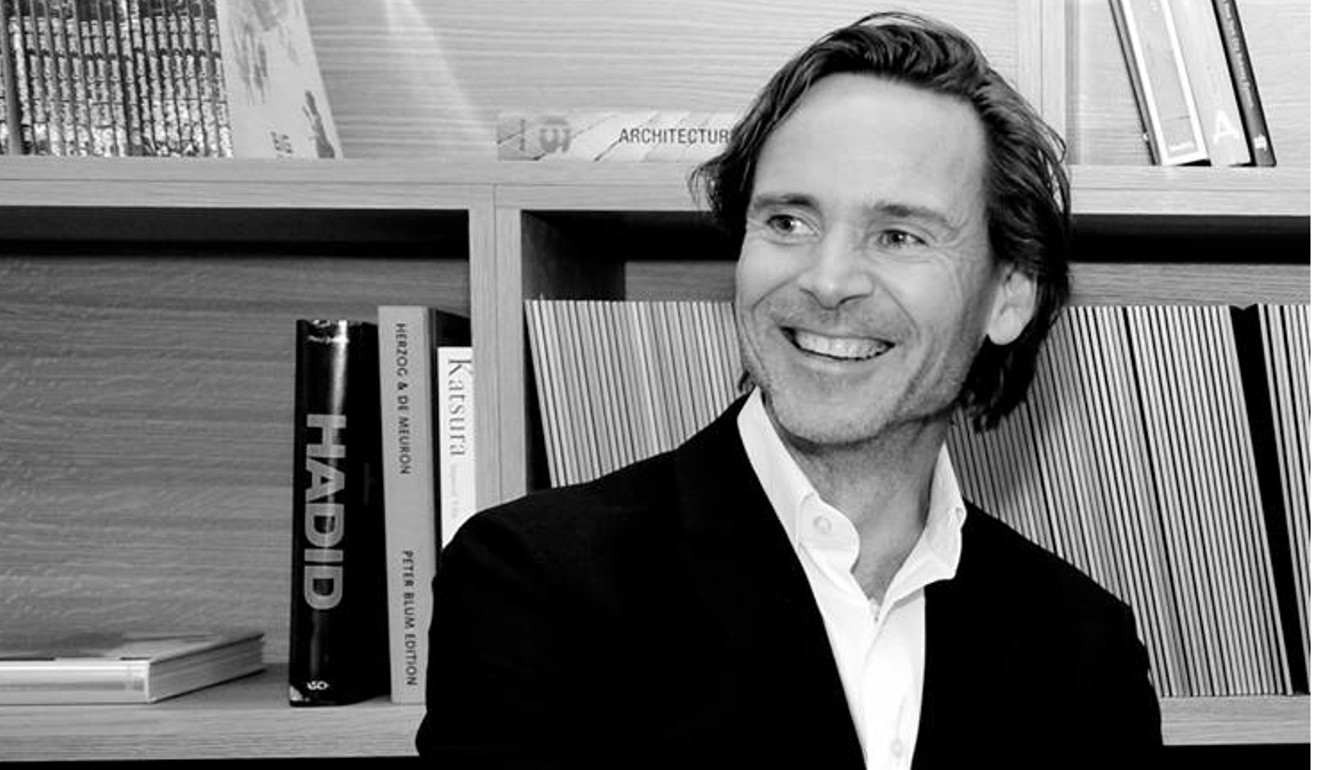 In a follow-up statement, the developer said: "We will welcome newcomers to Vancouver to purchase provided they intend to live, work and contribute to the community. Nearly all of the purchasers in our recent projects have purchased intending to live in the project and that is our target market."
Vancouver's foreign buyer tax had "nearly eliminated" demand from international investors who had no intentions to live or work in Canada, it said. "We are not pitching global asset allocation and it is inaccurate to suggest that."
A signature moment in the transformation of Vancouver
Westbank founder and president Ian Gillespie has been frank in the past about the importance of China to his Vancouver projects, which include some of the city's most dramatic residential towers – witness the sculpted curves of Vancouver House, rising at the downtown end of the Granville Bridge.
Vancouver House is among the projects being marketed at Westbank's China seminars this weekend, which offer "10 per cent deposit, unlimited buying and unlimited stock".
In a 2014 interview with the SCMP about the Bjarke Ingels-designed project, Gillespie framed Vancouver as a city attracting "the best and the brightest" of the world's intellectual capital.
He was nonplussed by the then-recent cancellation of Canada's federal immigrant investor programme*, and expected it to be replaced anyway.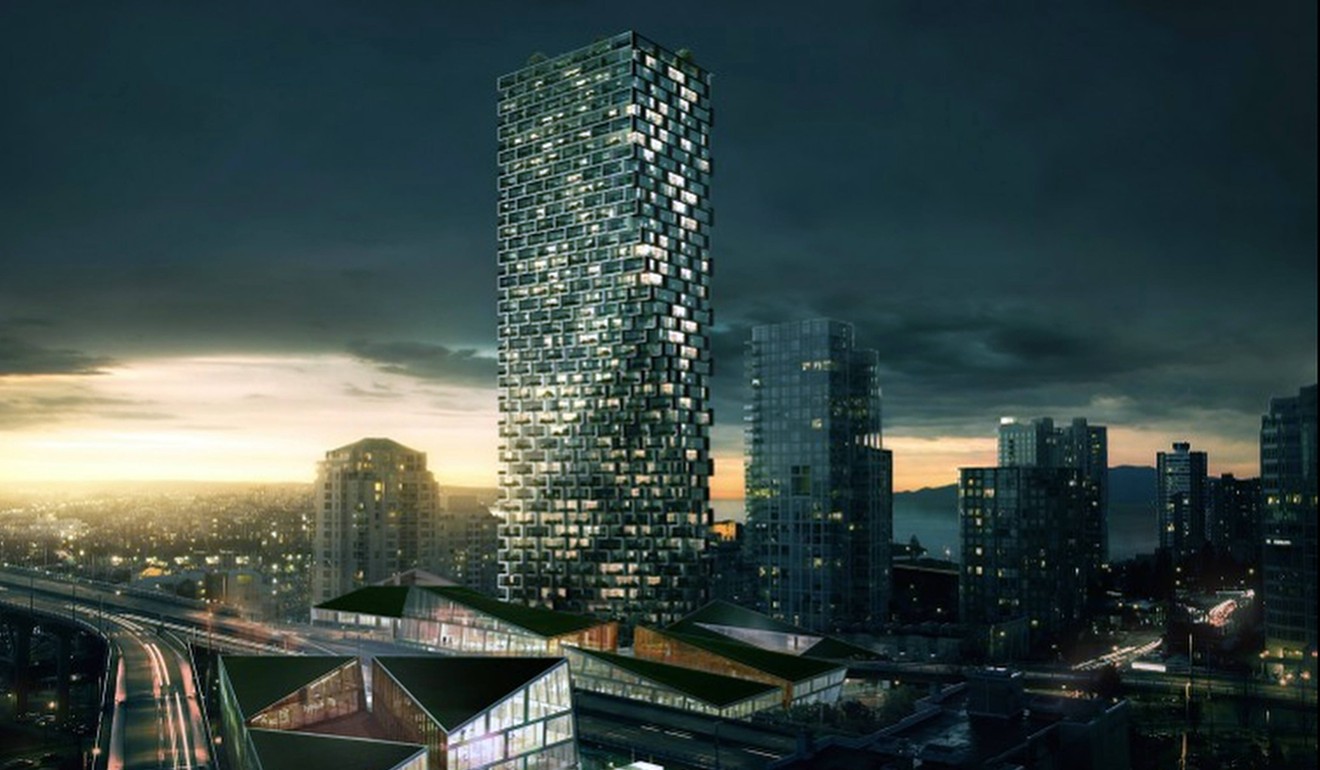 "The way to think of it is water is running down the hill. You put a boulder in the middle of the creek and the water heads around it. It always finds a way. People find a way … it has always been that way. It's like they are trying to plug a hose with a little pebble."
He took the view that Vancouver House represented a piece of "city building" that "will forever mark a milestone in the history of the city, in the same way that Stanley Park does, or Granville Island does".
"If you look back, 40 or 50 years from now, in Vancouver and you say, 'look at the transformation of Vancouver, what are the real signature moments', and this will be one of them. There is absolutely zero doubt about it."
He may turn out to be right.
*While the federal immigrant investor programme was shut down in 2014, the Quebec IIP continues to operate and is scheduled to bring 1,900 households, representing about 6,000 individuals, to Canada per year. Seventy per cent are expected to be Chinese, and their minimum wealth must be C$2million under recently changed rules for the next intake. They will be granted permanent residency in exchange for loaning C$1.2 million to the Quebec government interest-free for five years
The Hongcouver blog is devoted to the hybrid culture of its namesake cities: Hong Kong and Vancouver. All story ideas and comments are welcome. Connect with me by email ian.young@scmp.com or on Twitter, @ianjamesyoung70.